This one's for any of my fellow Apple users out there who have a Mac running OS X 10.7.2 (the latest update of Lion), and an iPhone or iPad running iOS 5.
I've got an iCloud account set up to sync reminders between my devices and my computer. This is working beautifully between my iPhone and iPad, and the reminders are also showing up in iCal on my Mac. But the problem is, on the Mac, I cannot edit them. I can't even click a reminder to mark it as done; I have to go over to one of the iThings and do it there.
Here's a screenshot of what I see when I try to doubleclick on one of my iCloud reminders from my Mac!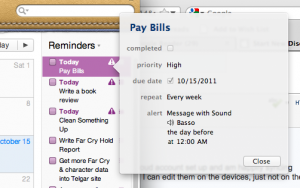 spazzkat, who also has his Mac laptop and his iThings updated to the same revisions that I do, has not experienced this problem. However, the main difference I've been able to note between his system and mine is that he has a full MobileMe account, including an email address, that he set up to talk to iCloud. I don't have a MobileMe account; I've got iCloud using my Apple ID, which is my gmail address, to log in. I would like to HOPE that this shouldn't be causing my reminders to be showing up read-only on my Macbook, but hey, I'm QA–I know how theoretical functionality doesn't necessarily line up with what the code is doing, even after it ships.
So what say you, fellow Mac geeks? Any of you experiencing this problem? Any of you know how to solve it?