The obligatory Great Big Writeup of Great Big Swoonability is on the way, but I'd like to share this one pic I got during the show. Usually my iPhone's less than useful for taking photos in an indoor concert situation–since I inevitably wind up with blurred figures in a wash of color and light.
Sometimes, though, it winds up looking really, REALLY cool. Like this pic!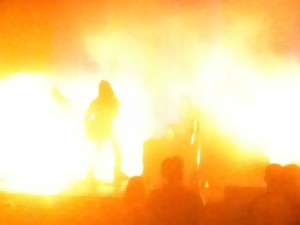 And some of you may have heard rumors of a Certain Cake. What I'll say about that right now is that the cake was not indeed a Lie. Stay tuned for more details on that cunning plan and how it was enacted!