Noting out of the gate: the entire Murkworks household is well. Dara, Paul, and I, along with George, are staying at home as much as we possibly can. We were doing so even before Governor Inslee issued the stay-at-home order for Washington state–and really, at least for Dara and Paul, being at home all day isn't much different from pre-COVID-19 days. Dara's "day job" is to be the landlady for our rental house, and Paul's been working from home for months now, ever since his employer shut down their Seattle office.
So the only real change to the daily house routine is that now I am working from home, too. I am very, very grateful that the work I do, i.e., software testing, is not a job that requires me to physically be in the office. All I need is a laptop and a good internet connection, and I have both of these things.
And with teleconferencing, my team at work's managing to more or less conduct business as usual. Our working situation is somewhat weird in that my actual employer is a contracting/consulting firm, and the office I work at is that firm's client. Most of my teammates are employees or hourly workers brought in by the consulting firm. So they're the ones who officially say whether we work from home or not.
That said: even before we got the official mandate to do so, once the COVID-19 situation started flaring up, my team by mutual agreement started working from home anyway. I warned my teammates that since I have slightly compromised lung function (I've never been officially diagnosed with asthma, but I do have periodic slight breathing issues and I have prescribed inhalers I use when necessary, so I am definitely asthma-adjacent at the very least), I very, very much did not want to be within catching distance of this virus. Fortunately my team was understanding about that, and fortunately, I'd already proven myself as able to work responsibly from home.
Now we have the mandate to work from home until the end of April. Mind you, there are aspects of this I really like. It means I can get up nearly an hour and a half later, and it means I don't have to worry about unpredictable bus schedules.
And when I'm doing my work in the media room, with the blinds up on the patio doors I can see out into our yard. Which gives me the opportunity to get nice pictures of yard visitors! Like these deer!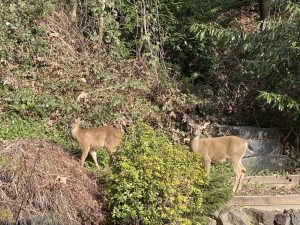 And also, this bunny, who got super close to the patio doors. (And here's another thing I'm grateful for–having the opportunity to upgrade my phone just before the statewide stay-at-home order dropped, so that I could play with the zoom. The new phone's zoom is what's letting me get some real nice pics right now!)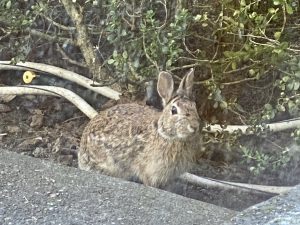 I'm missing my bike commutes, though. Particularly now that the weather's turning warm again, which makes it nicer to ride. And with non-essential businesses closed down, this means Dara and I can't go to the gym either.
I've been out on the bike a couple of times, mind you. But when I get down to the Burke-Gilman trail, I've found other similarly stir-crazy folks out walking, and it's a challenge trying to navigate around everybody and maintain proper social distancing.
But it's been very useful to be able to get on the bike at least to go as far as the store, either to Albertsons or to Safeway. Or to the Rite-Aid. It's enough to let me get at least a little exercise. And I've been trying to make a point of thanking the staff at the stores and at the pharmacy for being there for us. I've had folks perk up and smile at me when I've done that and I hope it'll make their days a little easier.
Dara's put out a box of snacks and anti-viral handwipes for anybody who brings us deliveries, too. Because they also deserve a lot of appreciation! Particularly the drivers for Pagliacci's, our favorite pizza place, who've set up a real nice no-contact system that lets customers pay and tip in advance over the phone. We ordered from them tonight and I made a point of giving the driver a 15 percent tip.
When our order showed up, it included surprise strawberries! Pagliacci's apparently has been going out of its way to bring customers surprise treats like that, which is lovely. Seattle-area locals, consider this my heartfelt recommendation as a local restaurant to support.
And a lot of things I've been looking forward to going to have been canceled, sadly. Norwescon's not happening. Neither is the Alan Doyle concert I was looking forward to at the Triple Door at the end of April, or the University District Street Fair in mid-May. I'm now also waiting for an announcement about Folklife being canceled over Memorial Day, too.
So today I got online and ordered a few things from vendors we like to visit at the Street Fair. I got soap from Stormy Mountain Soaps, and delicious caramel sauce from Caramel Kitchen.
While I didn't order from these vendors, I can also recommend OMG! Olive Oils, we've bought tasty oils from them a few times now. Also the cute shirts and bags made by Namu.
And oh yeah: I wasn't going to go to Emerald City Comic Con anyway, that event is way too big for my comfort zone. But I did see a lot of talk online about artists' income taking a big kick in the teeth because of ECCC getting canceled. So I also ordered some art. Specifically, this gorgeous thing by Jen Bartel.
Along with this, I've also had a significant uptick in buying music and ebooks, going and getting things on my wishlist that I've been dragging my feet on buying. A lot of authors and indie musicians are getting their asses handed to them by this pandemic, too.
I figure, there's very little I can do against this pandemic. But I can maybe help a few other folks get by a little better if I buy some of the lovely things they've created.
Likewise I've made a point of reaching out to my family and telling them I was thinking of them.
All in all these little things have been helping me just try to make it through the days right now. With national and world news as horrible as it is, I need any little bit of joy I can get.
Take care, everybody. Be safe. Be healthy. Listen to science and listen to doctors. Especially this Doctor:
Incoming transmission. #MessageFromTheDoctor #DoctorWho pic.twitter.com/WRTROxWRQy

— Doctor Who (@bbcdoctorwho) March 25, 2020