It has not escaped my attention, O Internets, that I never did actually finish the series of posts about our Great Canadian Adventure this past summer–and of course the highlight of same, the Great Big Sea show at Torbay in Newfoundland. Given that it is now several months after the fact posting about that would be anticlimactic. Especially given that we did just have ourselves the pleasure of Great Big Sea right here in Seattle, and oh my yes, it was good to have them back again.
Maybe not quite as awesome as seeing them on their home turf, but pretty damned awesome nonetheless!
All the usual suspects were on hand for the show, and in my particular case, this meant meeting up for dinner beforehand with friends for Mexican food at Pacific Place. My friend Geri came down from Vancouver since our show was cheaper than theirs, and I was happy to offer her crash space–in no small part since she'll be reciprocating for me next month when I come up for Le Vent du Nord! Had we had time, we might have enacted a Cunning Plan, since I'd been hearing amusing rumors of a 20th anniversary cake brought to the B'ys in Portland–but! Even without such, it was almost universally an excellent show. (The one exception was my poor friend Jenny whose dinner disagreed with her, but thankfully she made it through the entire concert!)
Arrival at the Moore as per usual put me right in smack dab sight of the merch table. Which I promptly raided for my latest GBS shirt–this one, in fact. And I started running into quite a few folks I know from the original OKP as well as its current Facebook group incarnation, since people were on the lookout for my hat! Much love and many hugs to Angela R. and Helen and Julie and Martha and Lynda, all of whom I said hi to at various points during the show.
And without further ado–and a ONE! And a TWO get up now! ONE, TWO, THREE, JUMP AROUND!
Now that I've got an iPhone 5 I'm a bit better at taking concert pics than I used to be–so here's the best shot I got of all of the B'ys (at least the front-line ones, since Kris as always is in the back)! As y'all can see, mostly everybody was favoring black and/or denim, in casual mode, although Bob was swanking it up a bit since he actually had on a jacket. I do not envy him the weight of that jacket under stage lights.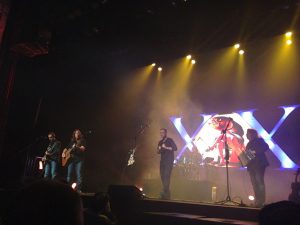 And, the set list for set 1:
Ordinary Day
Billy Peddle
Captain Kidd
Heart of Hearts
Goin' Up
England
Charlie Horse
Whaddya At?
River Driver
The Mermaid
Born to Believe
Yankee Sailor
Lukey
Video is now well and thoroughly a fixture of Great Big Sea concerts and they did use it to good effect all throughout this show! It was only a little bit weird when the video started up–but only because of the audio, not because of the video itself. The starting video was accompanied by snippets of "Great Big Sea" for reasons that are of course obvious… and there was a snippet of something else in there that I'm not bringing back to mind as I type this. Regardless, I do still prefer the opening measures of "Donkey Riding" as the Canonical Way to Start off a Great Big Sea concert!
That said? I have said it before and I will say it again: no problems either with firing off "Ordinary Day" as an opening number! It was bouncy, it was enthusiastic, and Alan roared out happily that "THIS IS SEATTLE!" in the middle of it. We roared back our approval.
"Billy Peddle" was next up, with the Tishialuk Girls intro as per usual in GBS concerts–and really, now that they have this live version, I like it even better than the studio version. And I like the studio version a lot.
"Captain Kidd" is always a crowd-pleaser, and by "crowd" I mean "me". Always partial to this one since I can actually play it! And they played the hell out of it at this show.
"Good evening!" Alan yelled at us next, and informed us that this was a concert twenty years in the making. Which was a delightful lead-in for the first of the new material in the concert–"Heart of Hearts", the first single out of XX. It's a lovely song, and I feel it's safe to say that GBS' fandom was collectively delighted by all of the callbacks to older videos in this one's official video! In concert it's not necessarily as bouncy or vigorous as some of their other ditties, but that's okay, because this song is all about the sentiment. I.e., "In my heart of hearts I'd do it all again." So say we all, Alan. So say we all. <3
And with that, we swung hard from "new song" back to "old song", and in this particular case, a song which was very heavily and delightfully referenced in the aforementioned video: i.e., "Goin' Up"! Again, longstanding favorite of the Murkworks, and one I had not in fact heard in concert for a while, and gods it was fun to see it done for this show.
After that we got another "GOOD EVENING SEATTLE!" from The Doyle, who helpfully informed us that "It's friggin' FRIDAY!" Because he's a helpful person like that. And here was where we also got quite a bit of tasty banter inspired by the shiny gift to the band that Séan had hung off his mike stand: a mobile! It spelled out "GBS XX" in colorful letters, and seriously, it was adorable. However, Séan at first didn't seem to quite know what it was, or else he was playing it up for effect when he suggested to Alan that he thought it was a dream catcher and that he'd be using it to catch Alan's dreams. To wit: bwahahahaha. >:D
"It doesn't have to be awkward," added the McCann, and that led right into an impromptu singalong of "All I Have to Do is Dream". At which point this was proclaimed "ANOTHER IRONCLAD SHOW!" And Séan promptly tore up the set list, and made jokes about envisioning the show with "a lot more Ronnie Milsap", and how "I have never been sober in Seattle".
Not to be outdone, Alan laughingly tried to jump back into the swing of the banter by talking about how their first gig in Seattle, "just before WWII", when "Lincoln was president", had been at the Tractor Tavern. And since they were, like, y'know, supposed to be singing and stuff, they finally led into "England".
I do like this one. It's a good slow number, and rich on the harmonies, and fun to sing along to if you're at all vocally inclined. It's also the first one of the concert that I actually managed to get pictures for, given that most of the crowd sat down. (Not that I wanted to sit, but most of the crowd did sit down for the slow numbers and it would have been a bit rude to stay on my feet, so!) Like this one, which is a bit blurry, but it does at least show a bit of the mobile. Which was hard for me as a camera novice to get, what with all the light bouncing off of it!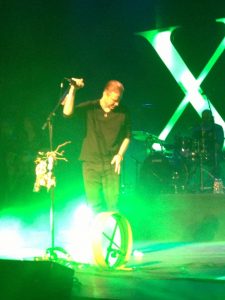 And this one was another one during "England"–one of the few where I got the whole band and things weren't terribly blurry. I liked the green wash of light they had on the stage for this number.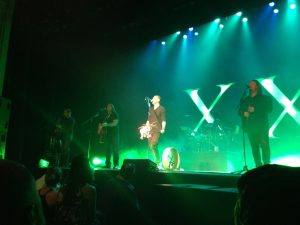 Coming out of "England" like that, it was probably inevitable that we got a bunch more banter–this time focused around Pike Place Market, and in particular, our famous fish-throwing marketboys. Séan lamented that he grew up in a fishing province and he still can't catch them; clearly, he opined, it must be the coffee! Alan on the other hand announced, "I bought a belt! It was the coolest 20 minutes of my life!"
And for once Murray actually jumped in on the banter, sheepishly confessing, "I bought the same belt!"
What could the B'ys say to that but "EVERYBODY TO THE PUB"? Well, they could sing "Charlie Horse". Which they did! "Charlie Horse": always fun.
And man, this set was banter city, especially leading into the next song, at which point Alan told us about the songs he wrote "at a tenderer age", and in fact the first song he ever wrote. Of which Séan observed that "it got us on TV!" and "you got to stay in the band". Cue extended riffing on Alan narrowly squeaking into place in the band of Séan's girlfriend, and Séan asking, "Is it okay if we call you Evelyn?"
The song in question was, of course, "Whaddya At?" Not one I regularly re-listen to, but it was pretty awesome nonetheless to hear it for the first time on stage! Afterwards Alan proudly informed us that it had reached number 1 on the southern shore of Newfoundland–that they'd sold dozens of records! And by now, the crowd was pretty lively indeed; Alan called out to somebody, "I see you with the flag!" I promptly looked around but didn't spot who'd broken out the colors.
Then there was a joke about the band starting out in 1957, another assertion that "Seattle rocks", and with that: "River Driver".
Jesus GOD, "River Driver". I've enthused about this song over and over and over and I won't be doing any differently here, I assure you! To this day I play the hell out of this song on my playlists. And yet it's just not the same, at all, as hearing it live. When Alan draws out the first verse a little before everybody starts the STEAMROLLER OF HARMONY that is the chorus… and when Foster opens his mouth and thunder pours out. This all by itself is a reason to see Great Big Sea live. YouTube videos don't cut it. You have to be there to let those sung chords resound right down through your bones.
We all sat down again for "River Driver", but for that, I was quite happy to just sit there and drink in the pretty sounds. And try to harmonize on the choruses. But only on the choruses. You don't want to be making noise during the verses, lest you risk missing Alan!
A hard mood swing promptly followed–and you can't get a harder mood swing in this case than going straight into "The Mermaid", complete with cracks about 60-pound halibut and Canadian navy divers. Less of the Mermaid Dance at this show than we've gotten in times past, as McCann was not quite as physically lively this time. (Not that this was a problem since he was in splendid humor!)
The second brand new song of the night was next: "Born to Believe". Good strong GBS-style pop, but the studio instrumentation had not prepared me for what to expect on stage: Bob doing double-duty on the banjo and the harmonica! Between my own pics and others taken by fellow fangirls, I make at least five instruments wielded by Mr. Hallett during this show, and the harmonica and the banjo were in fact done at the same time during this number. Because Bob just rocks.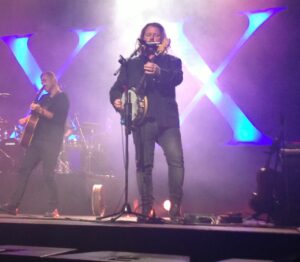 Yet another mood shift next–this time to "Yankee Sailor". Which I don't actually play often, which is doing the song a sad injustice, because it's truly swoonable. I have a bit of a harmony I love to do with it, and I tried to sing it, though as we were parked only a few rows away from a bank of speakers it was hard to hear myself thinking, much less singing at all!
Last but not least for the first set: "Lukey"! Still, hands down, my favorite Great Big Sea concert number. This time was no exception, for lo, I did yea and verily A HA ME B'YS, and also, RIDDLE AYE DAY!
During the set break I made a mad dash for the ladies' room, along with practically every other female member of the audience. I mention this because there was quite a bit of commiseration in the line about–how shall I put this–the lack of maintenance in the ladies' room we were occupying. Also, I had a complete stranger ask me if I was Angela, due to my hat! Anna the Piper, folks. By her hat shall you know her!
(However, I can neither confirm nor deny any rumors of Anna the Piper breaking the toilet.)
Ahem. ANYWAY, I also snagged an opportunity to take a few pics of the crowd and of the theater itself!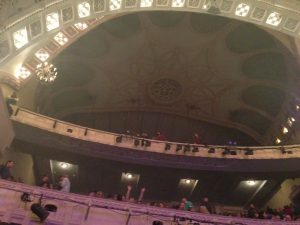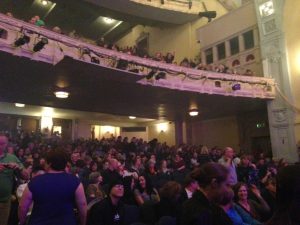 Soon enough, though, it was time for Set 2!
Let My Love Open the Door
Love Me Tonight
Nothing Like a Song
When I am King
Safe Upon the Shore
When I'm Up
Good People
Sea of No Cares
Helmethead
Consequence Free
Mari-Mac
Run Run Away
We started off the set with "Let My Love Open the Door", another of the new ones off the XX album. Not one of the ones that stands out for me–me, I'd have dearly, dearly loved to hear 'em do "Josephine the Baker", and it should go without saying that I'd die to hear 'em do "Le Bon Vin" live. But that said, this was still awesome to watch as Bob did double duty on the instruments again. This time he carried most of the song on the accordion, but whipped out a whistle for a solo! Well done there, sir!
"This is the Moore!" Alan yelled when that song was done (thank you, Alan, we knew ;) ). "Thanks for sticking with us!" Next up was "Love Me Tonight", and while Fortune's Favour is not one of my faves in the discography, this is one of my favorites off of it. It does make for such an awesome concert number, what with the whole refrain of "all together, you and me, a single note don't make a melody"!
More Seattle-based reminiscing followed, as the B'ys referenced their prior shows at the zoo and at the Showbox–I was a little surprised that they left out the Paramount, since they'd done an awesome triple-header there with the Young Dubliners and Seven Nations! And there was also more riffing on Alan's belt, as Séan told us, "May I present to you Your Highness," and Alan mused upon the WWF becoming his new fashion statement in belts. "It's been a great day," he concluded. "A great 20 years!"
Which led nicely into "Nothing Like a Song"! For obvious reasons I do so love this one, and happily belted out the entire thing. Even though the bridge now sounds totally weird to me without Dara's inserted words. :D
"When I am King" was dedicated "for Peter"! Whoever Peter was, I hope he was happy with this number! Alan's Les Paul was well and thoroughly rocked, and I hope somebody sitting closer than I was got pics, or better yet video, of him while he was eating that solo for tasty, tasty dinner. Lacking such visual inspiration to offer you, I can only assure you that why yes, he did well and thoroughly rock it.
We did not get "General Taylor" in this concert. Normally I would consider this a TRAGIC OVERSIGHT, except that we got "Safe Upon the Shore" instead, and so all was forgiven! Because see previous commentary re: Murray-produced thunder. And I do so love the story laid out stark and spare in these verses. Even if I still to this day think "BRAAAAAAAAAINS" as soon as I get to the bit about "the corpse the driftwood bore".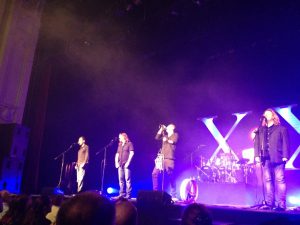 "When I'm Up" is also always a crowd-by-which-I-mean-me-pleaser, and after that we got Séan piping, "Good job, Alan!" And Alan affirming, "I think it's going very well so far!" Brightly, Séan agreed, "And now we have a banjo!"
He proceeded to tell us about something I'd seen come over the band's newsletter and Facebook page–the Good People project, in which they invited fans to send in pics of themselves to be shown up on the video screen during the song of the same name. Which was an awesome idea, and I am still kicking myself that I hadn't gotten together a picture in time! And of course the song "Good People" was next, with a loverly intro by Séan in which he said that "We have tried to engage socially with our fan bases" and how the Interwebs are "not just for international pornography!" Also, he advised that "any bad people might wanna skip this one."
I was particularly charmed to see a couple of familiar faces in that lineup–and the face of the girl sitting right next to me, since my party had given our unused fifth ticket to Elizabeth from Vancouver and SHE and her sister were up on that screen. So awesome. There was much squeeing on our row! And I was rather happy to sing at my friends sitting to either side of me. It seemed the Proper Thing to Do.
"Sea of No Cares" faked me out–it started slow and then went into the fast version! Nice arranging!
Then Alan exhorted us all to "hearken unto Bob for the tale of Helmethead"! With the obligatory priming of the audience to roar "FARE THEE WELL!" as loudly as we possibly could. Which was, it must be noted, pretty damned loud.
"Consequence Free" followed–by which point I knew we were in the home stretch since this one's pretty much always towards the end of a set. This time around the line about "wouldn't it be great if the band just never ended?" got a spectacularly loud cheer.
And oh my, "Mari-Mac". This was one of the few off notes for me in the whole show–not because the song was bad, because it wasn't! But I did learn the drawback of sitting so close to the sound system, i.e., that "Mari-Mac" thundering out of that setup turned into noise as close as we were sitting. I barely made anything out of the last verse at all.
"Run Run Away", unexpectedly, was last in the set! It was weird getting this without a singalong to lead into it, but it was a good strong closer nonetheless. Even if a trifle anticlimactic after "Mari-Mac".
And now, the encores, of which there were two!
Encore #1: Live This Life / Excursion Around the Bay / Fortune
Encore #2: Wave Over Wave / Old Black Rum
"Live This Life" is also not a song that's particularly stood out for me on XX, but now I'm going to have to go back and listen to it again. Specifically because this was a two-bouzouki song! Which means now we have another two-bouzouki Great Big Sea song!
And of course "Excursion Around the Bay" and "Fortune" are always, always wonderful. Much with the singing along and the bouncing and yeah, I'm pretty sure I cleared several inches bouncing there amongst the seats. It's a bit hard to bounce surrounded by seats, people! GOD, I miss the General Admission shows. And Doyle of course was up there egging us along with "EVERYBODY UP FOR A DANCE! IT'S FRIDAY NIGHT!"
The second encore, though–oh, that was beautiful. Because we got "Wave Over Wave", a long-standing favorite of mine which I'm pretty sure I've never heard on stage ever. And. AND! We got it with a bouzouki in the hands of Murray Foster on stage. Which means, ladies and gentlemen, mes amis de l'Internet, Great Big Sea now features not one, not two, but THREE musicians who can play the bouzouki. This band just got 25 percent sexier. Not bad for a band that's been in business for twenty years!
Last but oh most DEFINITELY not least, "Old Black Rum", baby. With the obligatory band intro on the bridge, including lauding of Bob for "knowing all the fancy chords". And Murray boinging around playing his bass while it was propped up on his shoulders.
In short… a hell of a night. It is pretty much an indicator of how brightly I was radiating joy when a guy in one of the rows in the middle section, as I passed him, grinned at me and said I looked like I'd had the most fun of anybody in the entire place. He was not wrong!
I boinged out of there to raid the merch table one more time, this time grabbing a brown hoodie with a red whale tail over the band's initials. There were farewells made to fellow fans, and hugs exchanged, and my houseguest Geri and I returned to the Murkworks, tired and content!
ETA: Oh hey look! Angela R. did in fact snag a bit of the solo in "When I am King"!
Also, she has a passle of pics publicly viewable on Facebook here! SOMEBODY got to hug The Doyle. Y'all hear that sound? That's the sound of me envying her from here. ;D
And Helen G. has some GORGEOUS pics, also publicly viewable on Facebook, right over here! I particularly like her ones of Bob multitasking on the instruments, and Murray with the bouzouki!
Dancing With Mrs. ETA: Forgot to mention, my full set of pics off my phone are here on this post. They're also viewable on Flickr and on Facebook.
(Editing to add 7/5/2020: Took out the Flickr link in the previous paragraph since those pics have been moved off Flickr back to my own server. You can find the pictures here.)
And the Old Black ETA's got a Hold On Me: It has been quite correctly pointed out on Facebook!OKP that some fans may not be as physically bouncy as others due to age, to which I will also duly note that some fans may also just not be as bouncy due to physical ailments of any kind. E.g., my poor friend who spent a good chunk of the show with her system upset! And I can absolutely imagine other reasons why people may not be up for bouncing. Vertical Movement IS hard work.
I shall be more mindful and understanding of this in future show posts. And limit my bogglement of "Why aren't you people on your feet?!" to the fans who, like me, are in fact physically capable of being so.
ALSO! I forgot to mention above that more than once I saw some super-eager fans trying to make a beeline for the stage. At least once I spotted a group of women trying to get a conga-line-type thing going, women who were wearing glow bracelets and things. They were turned back by Security, who were defending the stage quite sternly. While I acknowledge that the gentlemen of Security are just doing their jobs, still, I go "aww!" a little bit, and salute the dancing ladies for their efforts!
In My Heart of Hearts I'd ETA Again: Oh hey, somebody caught "Live This Life" on video! Awesome! TWO-BOUZOUKI awesome!
I'm As Happy a Man As the ETA Will Allow: NEAT! Lynda Elstad, who always gets ALL the best videos, snagged one of "Wave Over Wave"! Note the pans over to Mr. Foster on the bouzouki, and also note Alan's little amused tweak of the line that usually goes "I've sailed the word over four decades or more" to "two" instead. :D Yes, Alan, we see what you did there!