That surprise that Dejah promised me if I showed up for this week's session turned out to be THIS! If pictures are worth a thousand words, this one is worth at least an entire novella.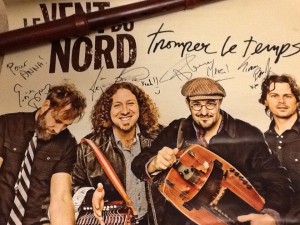 This was in fact the very poster I had given to Dejah myself, one of the extras sent to me by Susan! You guys, Dejah gave up her poster just so she could get it signed for me. How awesome is this? "Pour ANNA!" (heart) And aside from me blurring out Réjean Brunet's signature a bit because it was actually legible (and I therefore was NOT going to put that publicly online), what you see here is exactly what I got.
I got a little happyteary at that. I may have played only like FIVE NOTES at that session, because I'm still pretty much in Absorb the Musical Ambience mode, but I'm here to tell you, Internets: BEST. SESSION. EVER. I gave Dejah a big thank-you hug. And after the session was over, I promptly came home and wrote all four of these boys a thank-you message on Facebook. In French.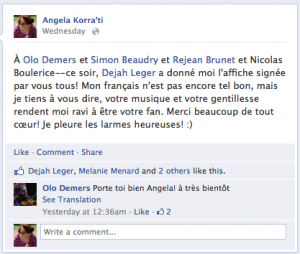 We still don't know why the car conked out on us–and and went down and fetched it from Kelso yesterday, since the mechanics there weren't able to diagnose a proper fixable problem for us. I'm still surly at that car for making me miss the concert.
But getting this poster went a long, long, LONG way to making it all okay.