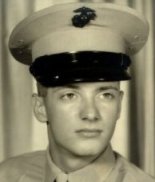 my family…
Dad: 5/3/01
My father Donald Ray Highland passed away on May 3, 2001. I wrote about it a lot on my web page at the time; this was before I was doing my Livejournal, so I was pretty much doing my own journal pages. I have since moved what I wrote at that time to
backdated entries on my Livejournal.
In addition to what I wrote there, I want to add here what more I remember about him. Born January 30, 1944, and I remember it was always important to me that Dad's birthday was just a week after mine.
Dad and Mom split up fairly early on, when I was small. I don't have any memories anymore of him actually living in the house I remember the best from my childhood–but I have strong, clear memories of where he moved to after. And I remember listening to his Elvis records with him on his stereo set, which was quadrophonic. I remember that when I got to visit Dad, it meant that I would get to stay up late, and we would play card games (Reverse Kings, Shanghai Rummy, Canasta). Or other games, too. I remember playing Aggravation at Dad's. Or Farkle.
I remember Dad having to work a lot to make ends meet, both before and after my little brother and I went to live with him, and after I left for college.
I remember him always playing music. I remember singing happening in his household. And I remember the huge Christmas tree he had while he lived at Grade Lane in the apartment behind… a barber shop, I think it was. He would put it in this sort of alcove off the living room, and the tree almost filled it completely.
And I remember him calling me when he could after I moved out to Seattle, though that wasn't often because of phone bills. And I remember that before he passed away, the last time I'd seen him before that was Christmas of 2000. And he'd shaved his beard after years of having it, and I remember being startled at the sight of him like that.
I remember his wry, rough sense of humor, his smelling of cigarette smoke and more than occasionally of beer. I remember his lean, wiry build, and him not seeming all the much taller than me anymore once I'd grown up.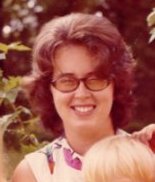 Mom: 11/27/85
My mother Judith Elaine Spears passed away on November 27, 1985. My memories of her aren't as clear as my memories of Dad, since she died so much earlier than he did… but I still have some.
I remember that we found out in Dad's household the following Saturday, which according to the diary I was keeping at the time was the 30th. And I remember to this day that I had been watching the Bugs Bunny cartoon "Rabbit of Seville" at the time. I haven't been able to watch that cartoon since without thinking of Mom.
I remember her being a devoted Elvis fan. She got choked up and murmured "bless his heart" when she heard "Suspicious Minds" playing on the radio.
I remember her wrestling with her health throughout most of my childhood and adolescence: her weight and the effects of the intensive radiation and chemotherapy treatments she'd had for the brain tumor which not only gave her epilepsy but which also eventually killed her. I remember her hair being long and prematurely gray, and her needing to wear bandannas to cover the bald spot that she had as a souvenir of the cancer treatments.
I remember that she walked everywhere to get things done: going to the store, going to church.
… and others
Katrina: 8/29/05
In memory of those in New Orleans and other parts of the South who were lost during the rampage of Katrina. The nation is still reeling from her impact.
The London Bombings: 7/7/05
Because I don't care what your cause is, you just don't go blowing up people who have nothing to do with it. That's no way to get your point across. And because I admire the British for not letting it through them off their stride. We're not so able to do that here.
Tsunami Disaster: 12/26/04
A disaster almost too big for me to grasp, the aftermath of which will be felt in that part of the world for who knows how long to come. A few lines on a web page are barely adequate–but it, and what monies I have been able to donate so far, are a start.
Christopher Reeve: 10/10/04
I posted my memories of Christopher Reeve on my Livejournal. But I will also give him his moment here.
9/11/01

This is in memory of those who died Sept. 11, 2001 at the World Trade Center, the Pentagon, and on American Airlines Flight 11, United Airlines Flight 175, American Airlines Flight 77, and United Airlines Flight 93. A lot has happened in the world since then, and a good bit of that has been because of that one earth-shattering event. I have a lot of issues with a lot of its consequences… but that event itself should not be forgotten, and the lives lost deserve to be remembered.
Matthew Shephard: 10/12/98
In memory of a young man who was murdered for no other reason than being a homosexual. Rest in peace, Matthew.
École Polytechnique Massacre: 12/6/89
I learned about the École Polytechnique Massacre on 12/6/04, and wanted to give these women their moment of silence here on this page.
The women who died were:
Geneviève Bergeron (1968-1989), a scholarship student majoring in civil engineering. She was also a talented musician;
Hélène Colgan (1966-1989) only a semester away from graduating with a bachelor's degree in mechanical engineering;
Nathalie Croteau, mechanical engineering student,
Barbara Daigneault (1967-1989) in her final year of mechanical engineering. Her father was a mechanical engineering professor at another Montreal-area engineering school; Barbara helped him as a teaching assistant.
Anne-Marie Edward (1968-1989) chemical engineering student and member of the university's alpine ski team. Her family elected to bury her in her team uniform.
Maud Haviernick (1960-1989) had a bachelor's degree in environmental studies and was in her second year of materials engineering;
Maryse Laganière, worked in the university's budget department. She had recently married.
Maryse Leclair, engineering materials student;
Anne-Marie Lemay, mechanical engineering student;
Sonia Pelletier, would have graduated on December 7 as an mechanical engineer;
Michèle Richard, engineering materials student;
Annie St-Arneault, mechanical engineering student;
Annie Turcotte (1969-1989), materials engineering student;
Barbara Klucznik-Widajewicz, materials engineering student.
In Memoriam. December 6, 1989.